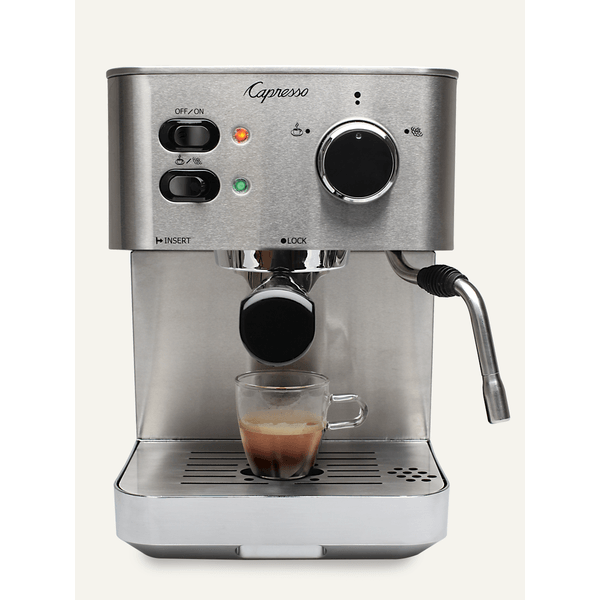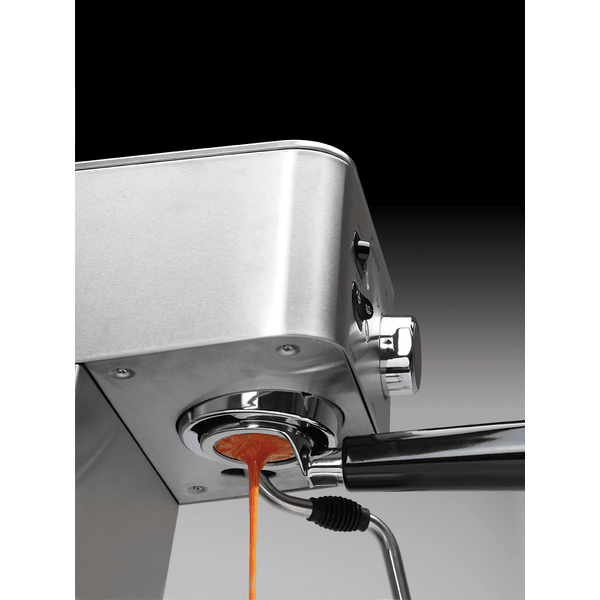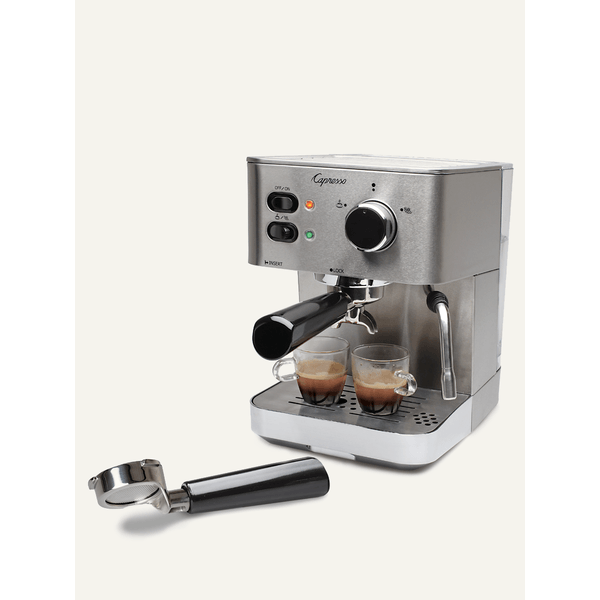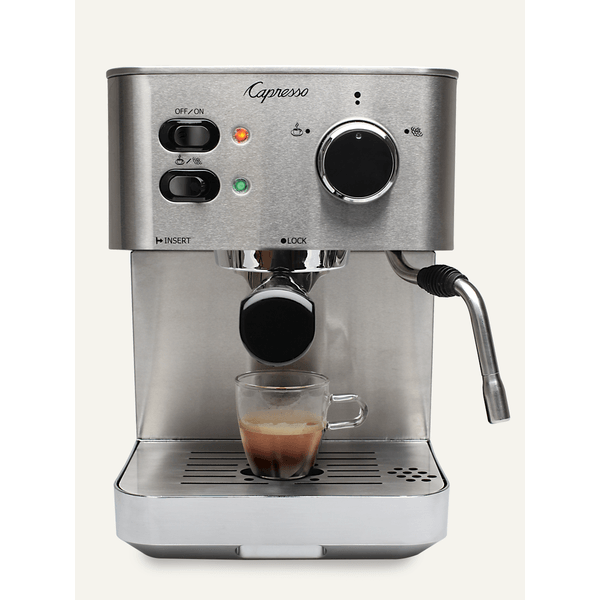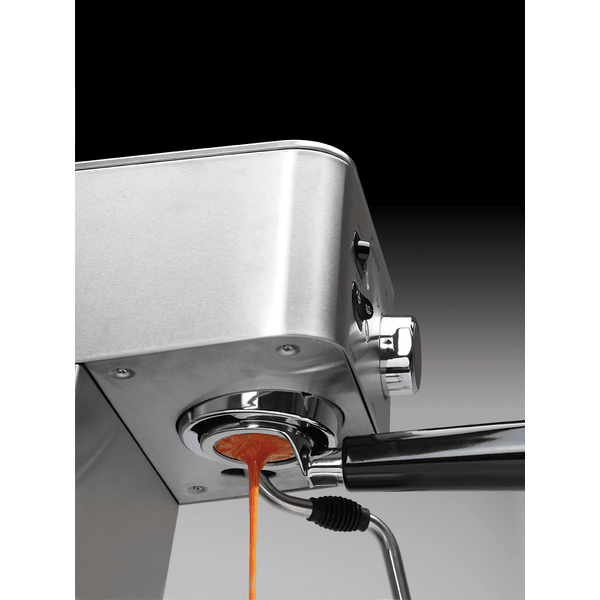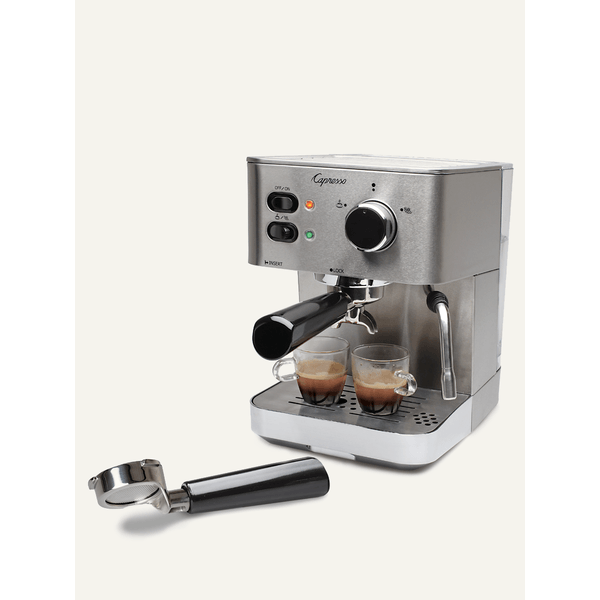 Capresso EC Pro
Commercial-grade EC PRO Professional Espresso & Cappuccino Machine will have you brewing barista style.
Free 1 lb. of Gaia Coffee (ground) with purchase

Features and Benefits
Includes two espresso filters; one for convenience, one for control; choose the one that‰۪s right for you
The double spout espresso filter creates an optimal brew, quickly and easily; brews 1 or 2 espressos at a time
The bottomless espresso filter lets you brew barista style and perfect your technique
Advanced pump boiler maintains a reservoir of hot water at the perfect temperature for faster and more consistent results
State-of-the-art boiler increases brewing pressure and temperature stability
15 bar pump provides optimal pressure for rich crema, the thin layer of foam that marks a perfectly brewed espresso
Commercial-style power frother for perfectly foamed or steamed milk for delicious cappuccinos and lattes
Heavy-duty stainless steel construction
42-oz, removable water container
Large, integrated cup warming tray
Indicator lights for ‰ÛÏOff/On‰۝ and ‰ÛÏCoffee/Steam‰۝
Easy-to-clean removable stainless steel drip tray
Coffee scoop/tamper included
How Things Work
Featuring an advanced pump boiler system and two filter choices, the commercial-grade Capresso EC PRO Professional Espresso & Cappuccino Machine is the ideal choice for brewing caf̩ quality espresso and cappuccino at home. With two filter options, coffee lovers at any skill level can prepare barista-quality espresso. The heavy-duty double spout espresso filter, designed for beginners, is convenient and easy to use, brewing one or two espressos at a time. The filter‰۪s sieve helps produce an ideal brew, by creating optimal pressure without having to perfect tamp or grind size. For more experienced home brewers and those looking to improve their barista skills, the bottomless espresso filter lets users brew barista style. Unlike the double spout filter, the pressure in this sieve is built up based on grind size and tamp. The bottomless sieve produces a richer, thicker crema and a hotter brew because the espresso has less contact with the surfaces of the portafilter.
We recommend espresso beginners use the double spout filter and 2-cup sieve to create the optimal brew quickly and easily. For more advanced users, we suggest experimenting with the bottomless filter and sieve. By adjusting the grind size, tamp pressure or quality/age of the coffee, your espresso brewing technique will drastically improve the coffee‰۪s taste. When used correctly, the bottomless filter will produce a richer crema and a hotter brew.
An art that only a connoisseur could master ☕
A lot of hard work goes into producing good coffee. Each day, we are tasked with making our process better. Our commitment to quality and taste is what makes Gaia the best coffee in the world.#obsessed
Harvest
Our journey begins with a dedication to sourcing the highest quality coffee beans from diverse regions across the globe. By prioritizing sustainable and ethical practices, we not only deliver exceptional coffee but also support the livelihoods of the hardworking farmers who make it all possible.
Quality Control
After harvest, we meticulously inspect our beans. Only the beans that meet our high standards progress to the next step.
Production
Your beans are thoughtfully prepared for packaging. We are confident you will love our coffee as much as we do.
Our commitment to ethically sourcing coffee from around the globe is at the heart of our mission. We take great care to ensure that every bean we use is not only of exceptional quality but also sourced in a socially and environmentally responsible manner.
Direct Relationships: We establish direct relationships with coffee growers and cooperatives in coffee-producing regions worldwide. This direct connection allows us to collaborate closely with farmers, ensuring fair prices and transparency in the supply chain.
Fair Trade Practices: We prioritize Fair Trade principles, which guarantee fair compensation to coffee farmers. We believe that fair wages and decent working conditions are fundamental to sustaining coffee-producing communities.
Sustainability: We are committed to environmental sustainability. This includes supporting sustainable farming practices, such as shade-grown and organic coffee, which protect ecosystems and promote biodiversity.
Try our other delicious roasts