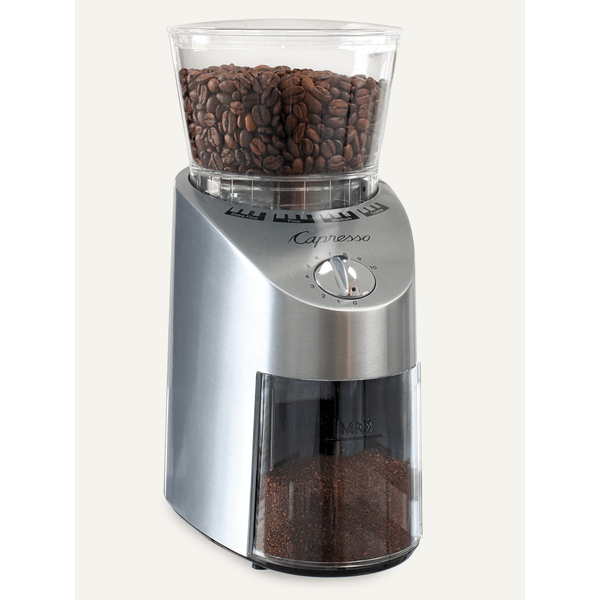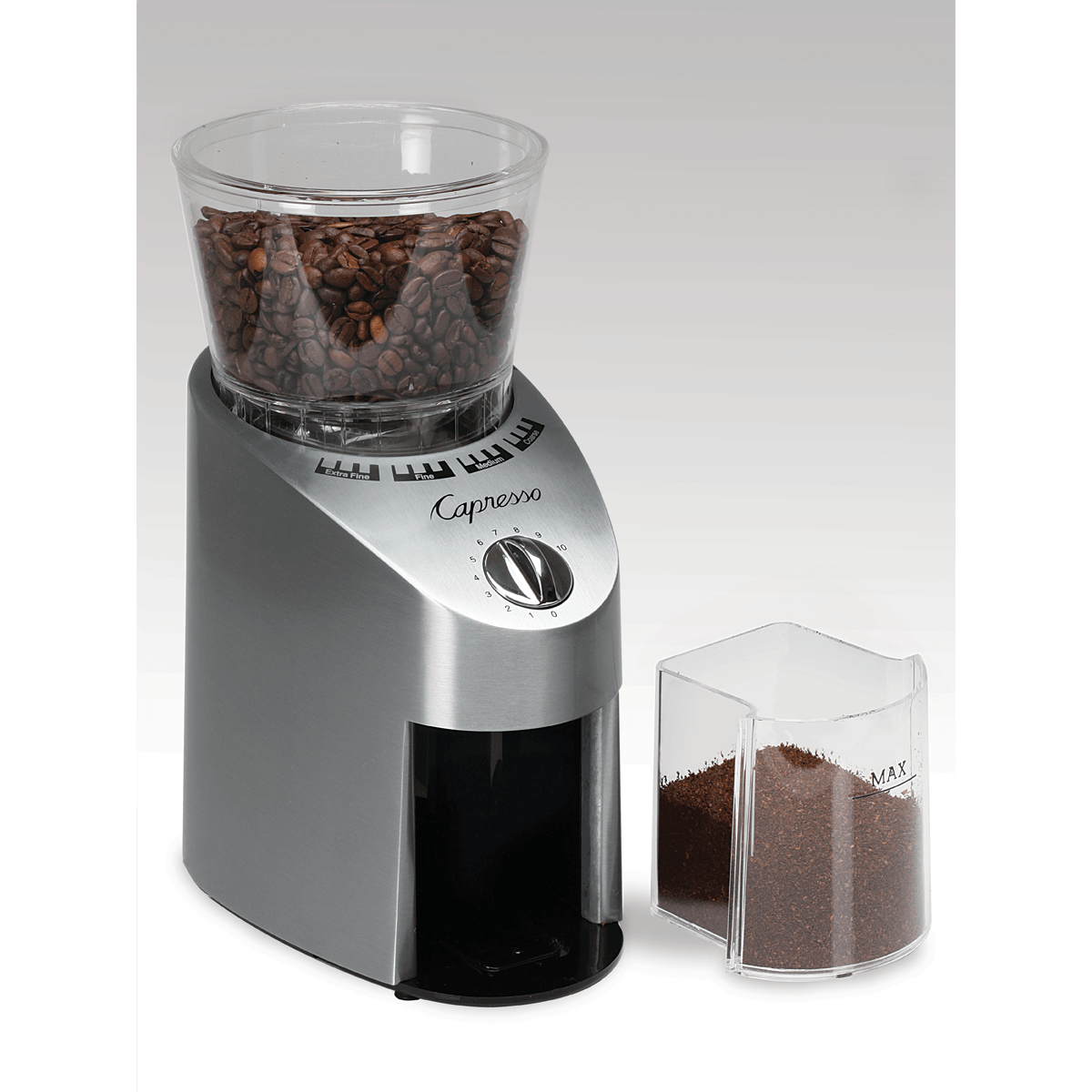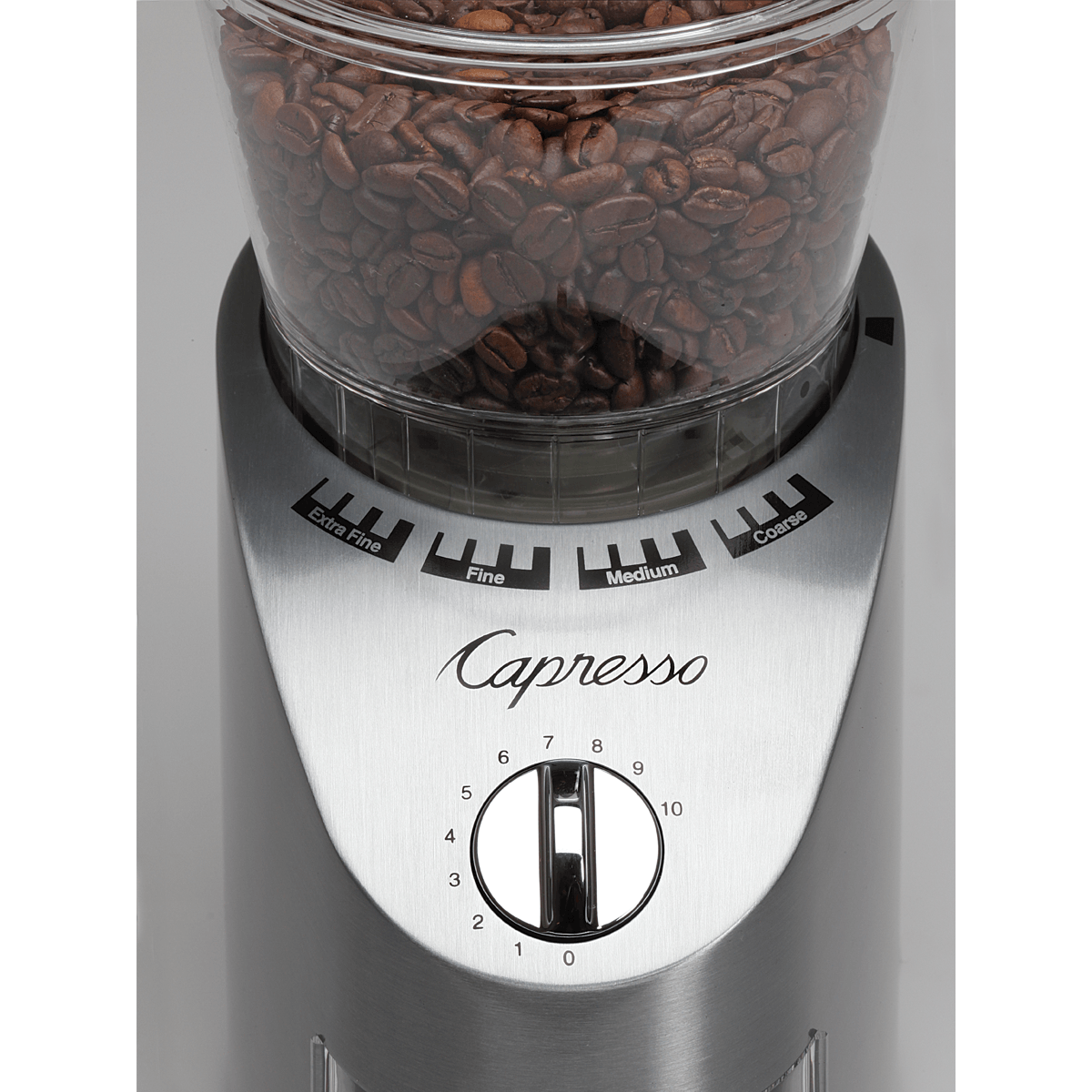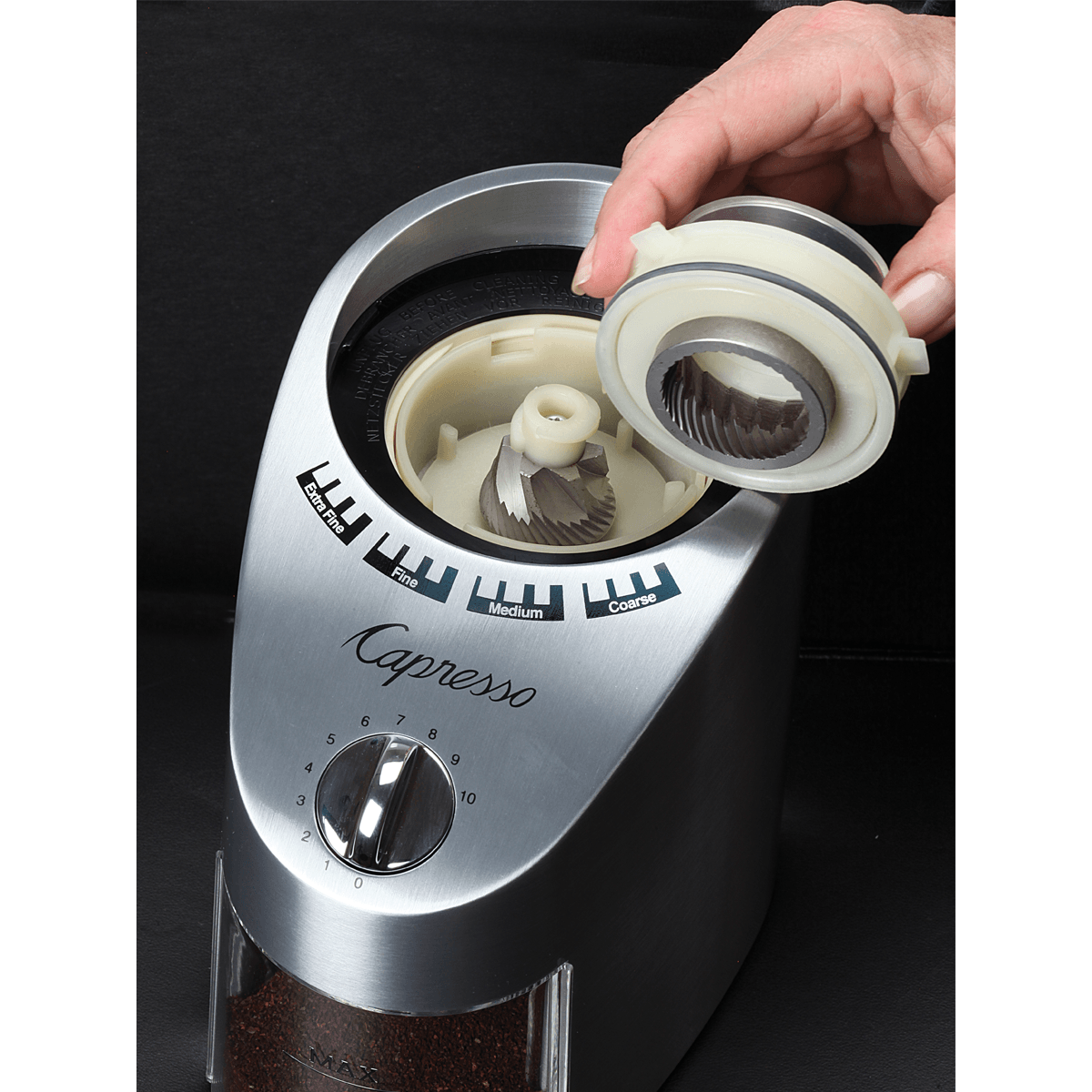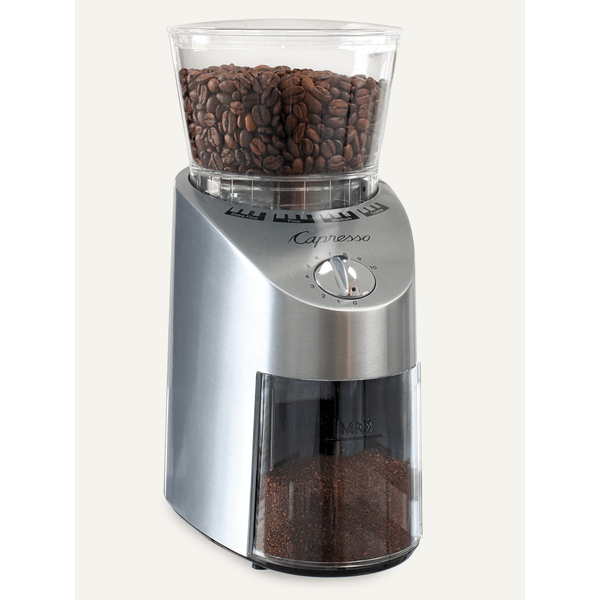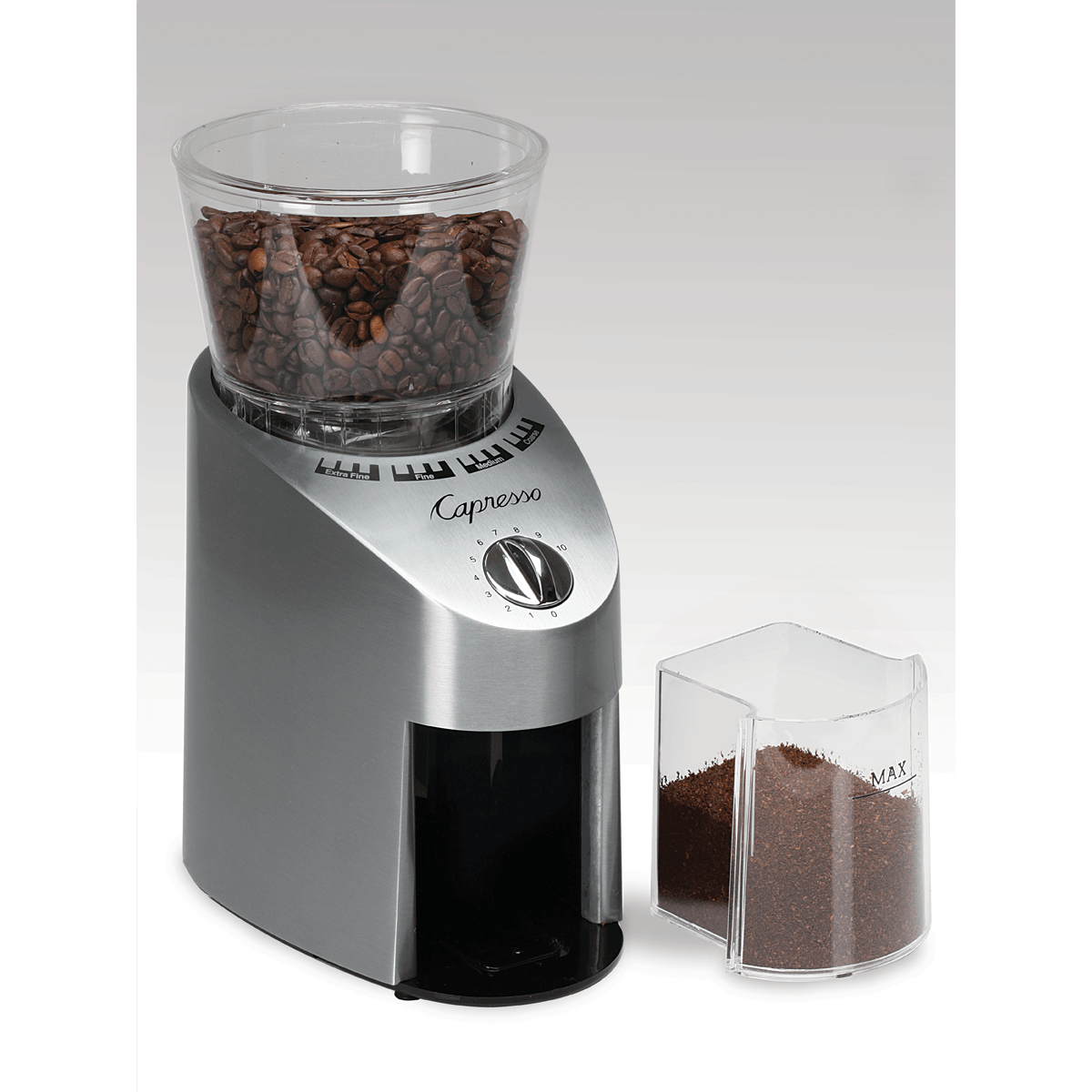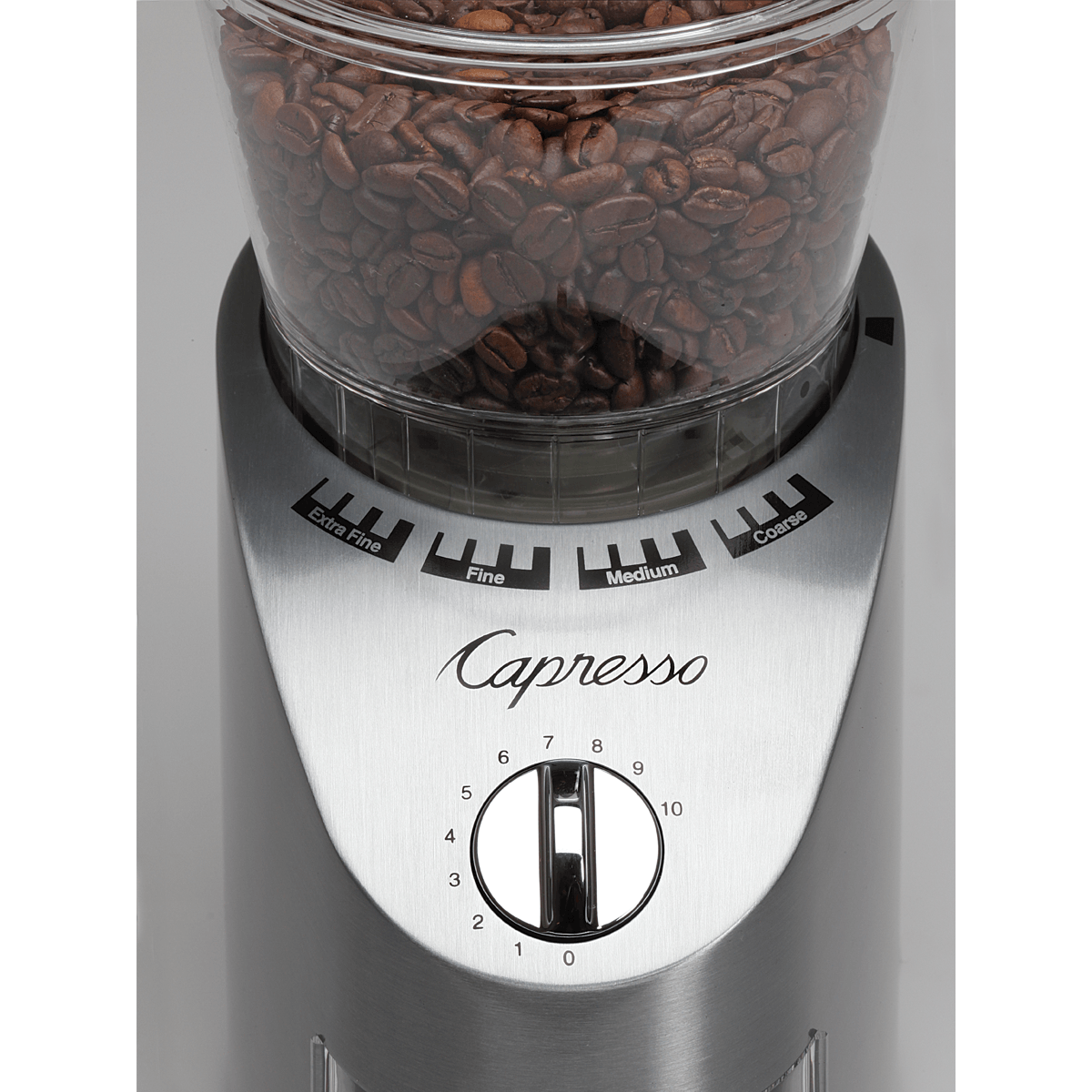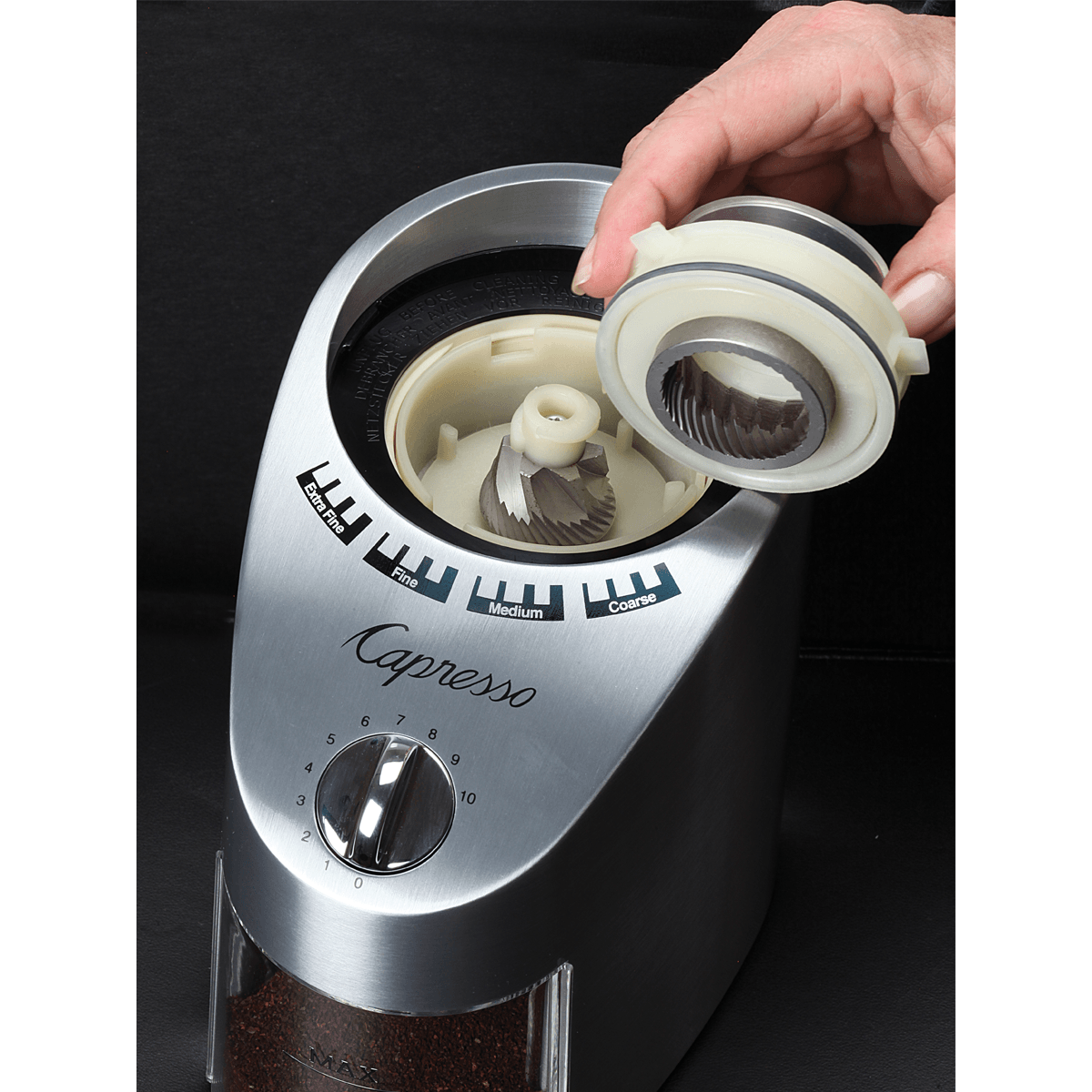 Capresso Infinity Plus Conical Burr Grinder, Stainless Steel
For maximum aroma and flavor retention nothing beats the Infinity Conical Burr Grinder. Conical burr grinders provide the widest range of precision grinding for every type of brewing method from Turkish, espresso, drip coffee, French press, pour-over brewers and percolators.
Features and Benefits
Extremely wide grinding range from ultrafine Turkish to coarse for all kinds of coffee preparation
Commercial-grade solid conical steel burrs with advanced cutting design for high precision grinding
16 clearly marked fineness settings with four levels for each: extra fine, fine, regular and coarse
Gear reduction motor grinds slow with reduced noise and little static build-up
Slowest grinding speed in its class creates less friction and heat buildup preserving maximum aroma and flavor for all grind settings
Safety lock system for safe operation during and after use; auto off when upper burr is not locked
Upper conical burr removable for easy cleaning
Tight-fitting ground coffee container holds up to 4 oz of ground coffee
See-through bean container holds up to 8.8 oz of beans
Timer can be set to grind from 5 to 60 seconds
Pulse grinding
Elegant, timeless and user friendly design
Grinding fresh whole bean coffee immediately before brewing is the first step to achieving the best tasting coffee at home. Ground coffee interacts with the air around it and, within hours, loses a great deal of flavor and aroma. The longer the ground coffee is exposed to air the more flavor is lost and the rich, full-bodied taste of the coffee cannot be obtained.
Advanced Technology
Capresso's conical burrs are produced as matched pairs and are hand assembled in Switzerland for precise fit. Computer-controlled, special grinding heads cut the angles and shapes of the steel burrs to within 0.1 mm precision (1/250 of one inch). The multiple gear motor produces the slowest grinding action (< 450 rpm) for the highest precision grinding from Turkish fine to percolator coarse.
Tips for Use
The Infinity Plus Conical Burr Grinder will only grind when the red indicator on the bean container points to one of the fineness settings. Turn the selector knob and grinding starts instantly.
Turning the bean container marking (red line) outside of the fineness settings will stop the grinding immediately. Turning it back to the desired fineness will resume grinding if the selector knob is still running (pulse grinding).
Make sure the bean container is empty before removing it from the base otherwise beans will scatter around.


Includes:
Cleaning brush
Measuring scoop
Watts/Volts/Hertz:
100W/120V/60Hz
Color:
Die-cast stainless steel
Safety Approval:
UL Listed
Machine Weight:
6 lbs.
Dimensions:
H-10" x W-7" x L-5"
Warranty:
1 Year Limited Warranty for Household Use
Country of Origin:
Made in China
An art that only a connoisseur could master ☕
A lot of hard work goes into producing good coffee. Each day, we are tasked with making our process better. Our commitment to quality and taste is what makes Gaia the best coffee in the world.#obsessed
Harvest
Our journey begins with a dedication to sourcing the highest quality coffee beans from diverse regions across the globe. By prioritizing sustainable and ethical practices, we not only deliver exceptional coffee but also support the livelihoods of the hardworking farmers who make it all possible.
Quality Control
After harvest, we meticulously inspect our beans. Only the beans that meet our high standards progress to the next step.
Production
Your beans are thoughtfully prepared for packaging. We are confident you will love our coffee as much as we do.
Our commitment to ethically sourcing coffee from around the globe is at the heart of our mission. We take great care to ensure that every bean we use is not only of exceptional quality but also sourced in a socially and environmentally responsible manner.
Direct Relationships: We establish direct relationships with coffee growers and cooperatives in coffee-producing regions worldwide. This direct connection allows us to collaborate closely with farmers, ensuring fair prices and transparency in the supply chain.
Fair Trade Practices: We prioritize Fair Trade principles, which guarantee fair compensation to coffee farmers. We believe that fair wages and decent working conditions are fundamental to sustaining coffee-producing communities.
Sustainability: We are committed to environmental sustainability. This includes supporting sustainable farming practices, such as shade-grown and organic coffee, which protect ecosystems and promote biodiversity.
Try our other delicious roasts