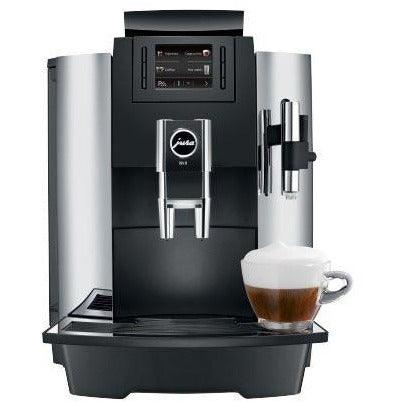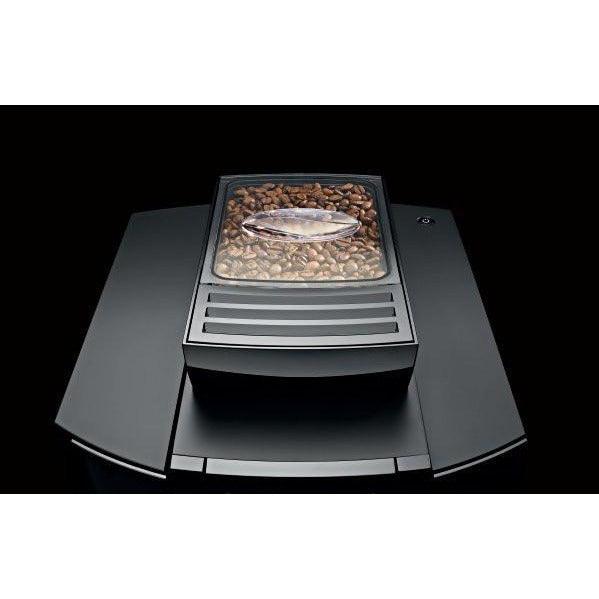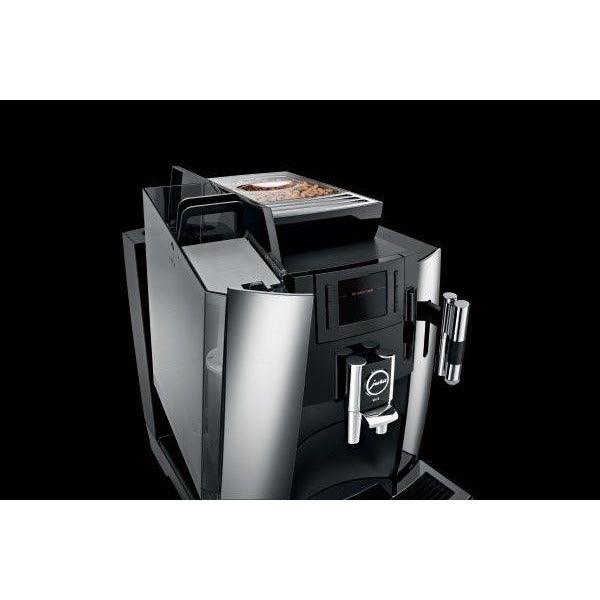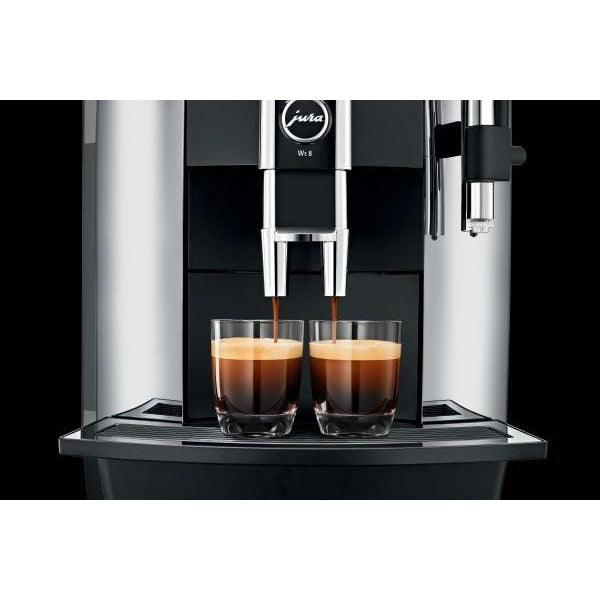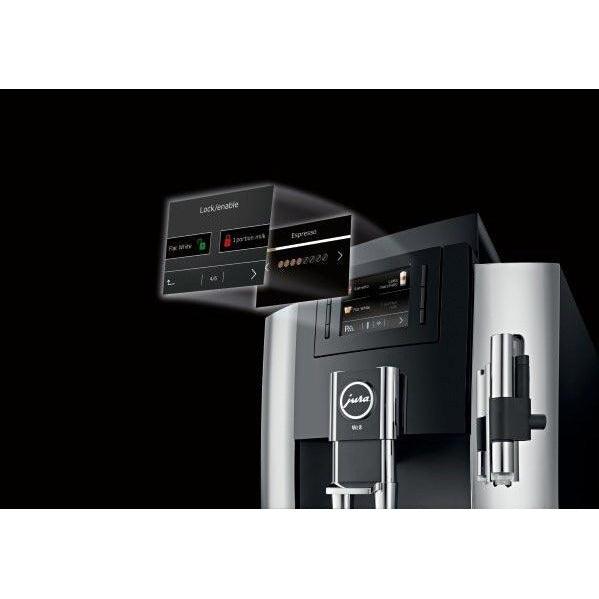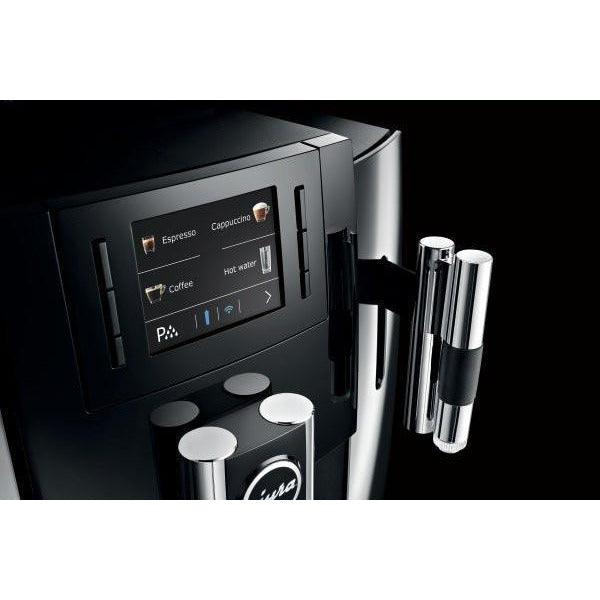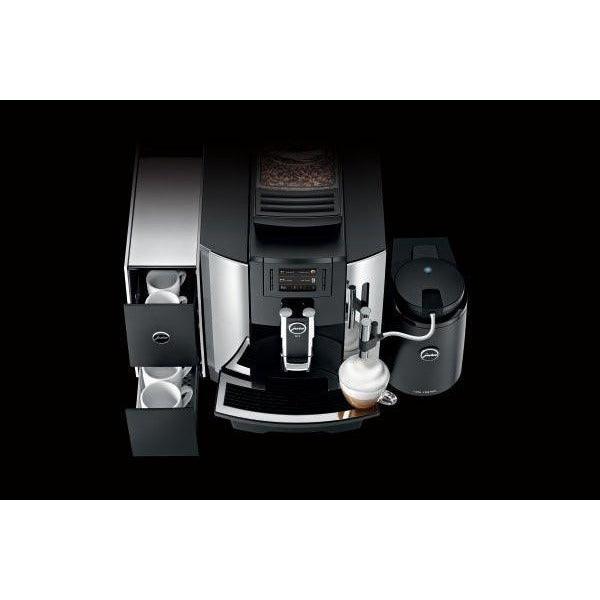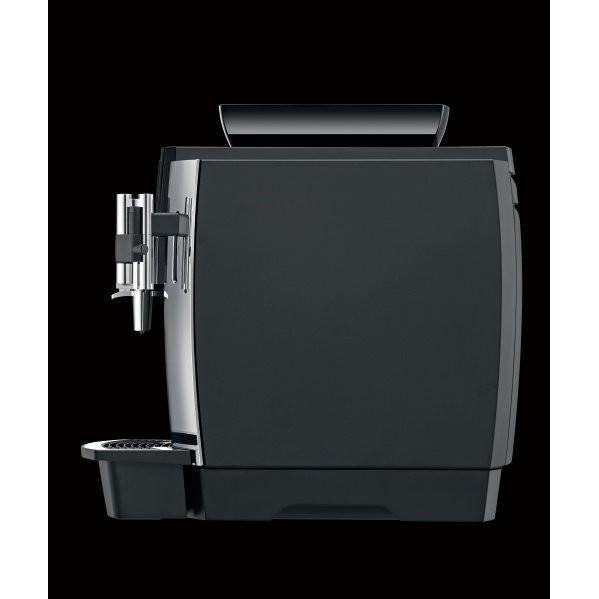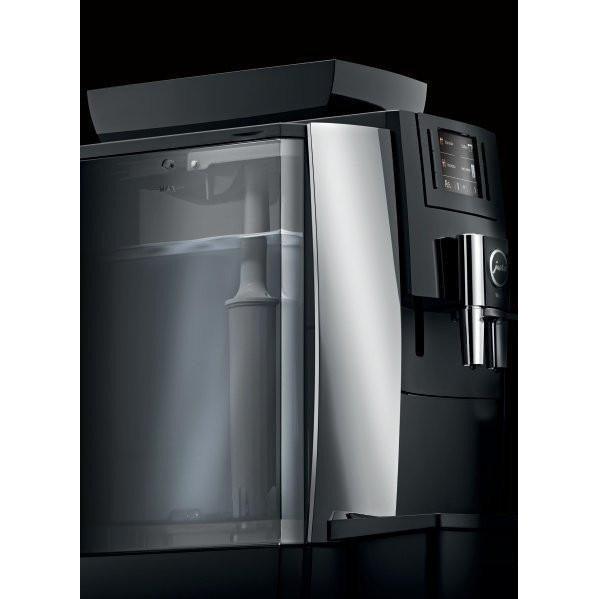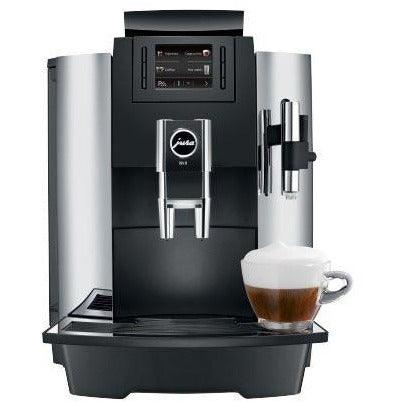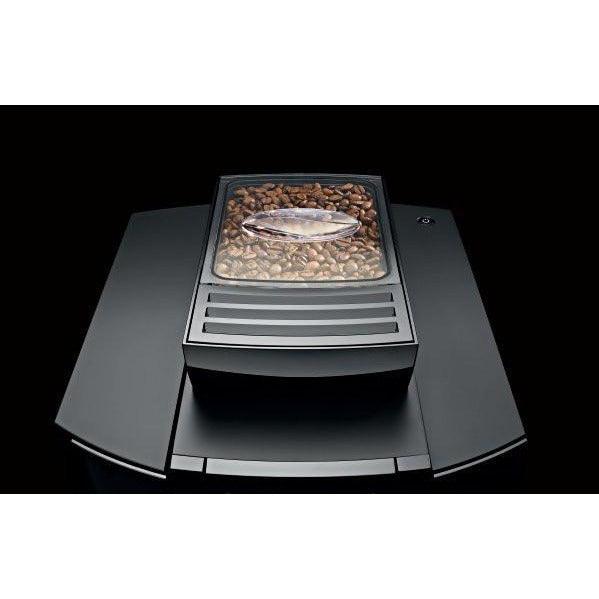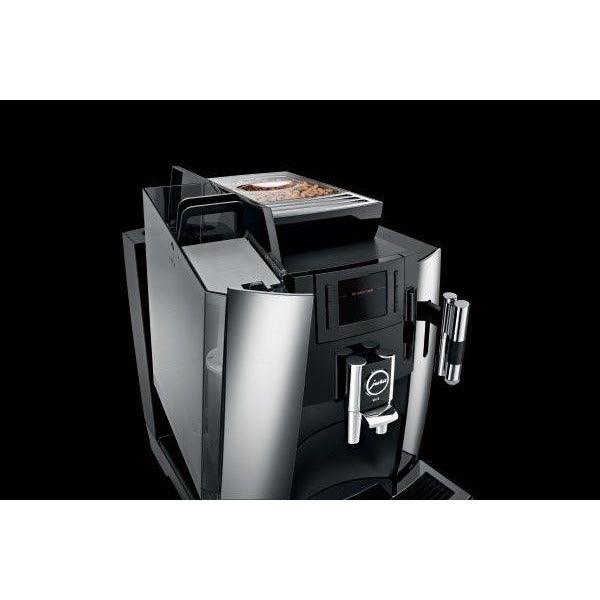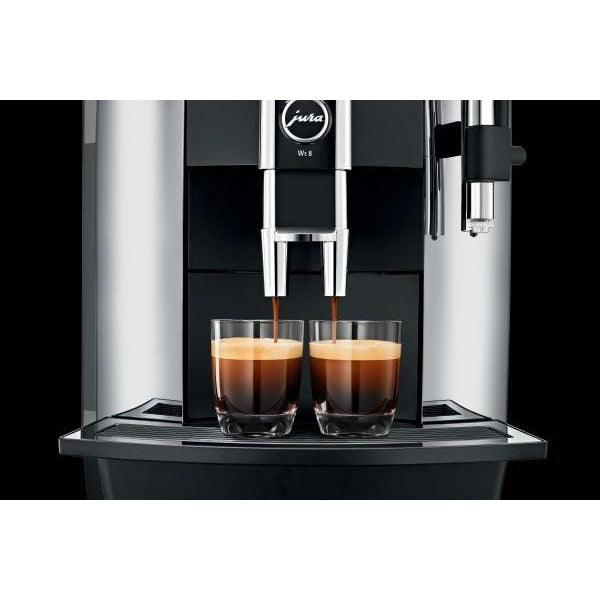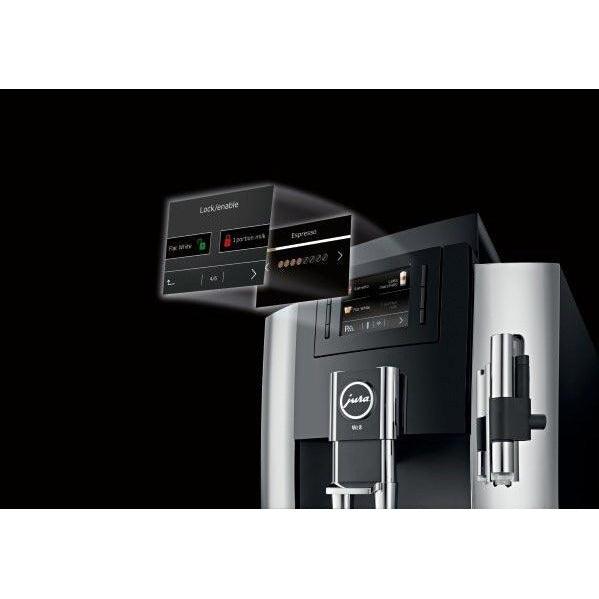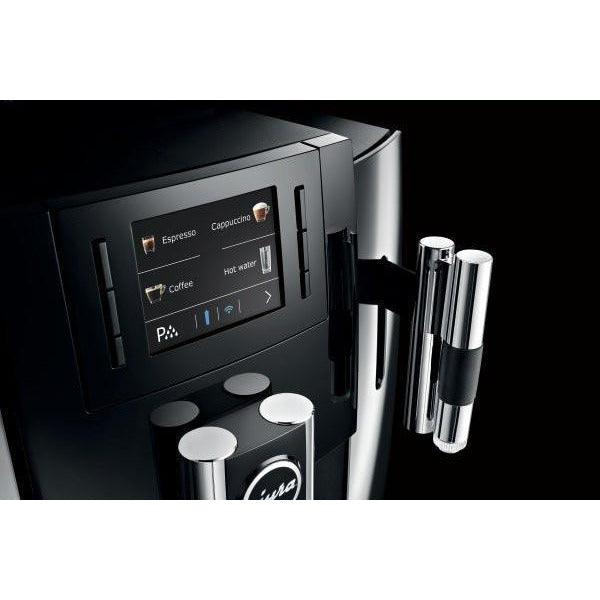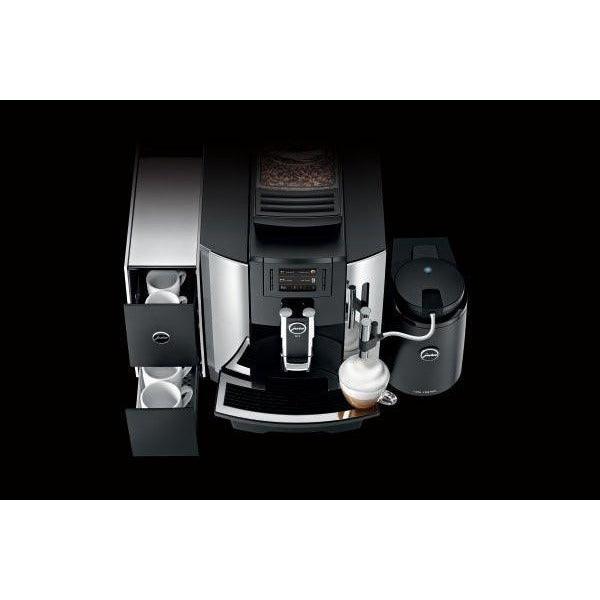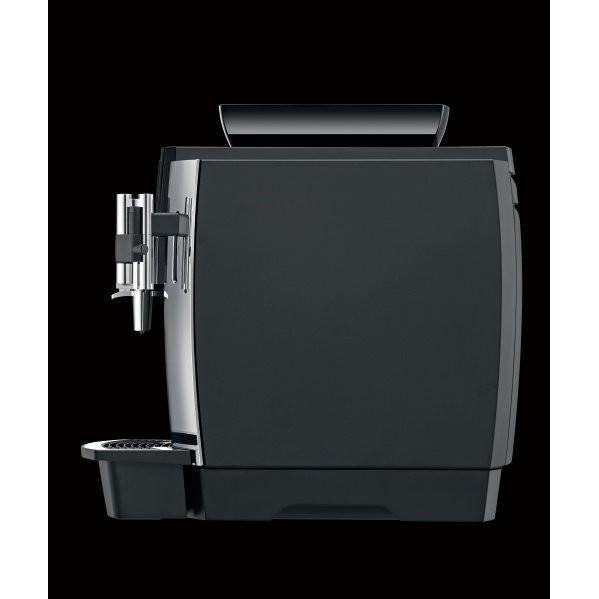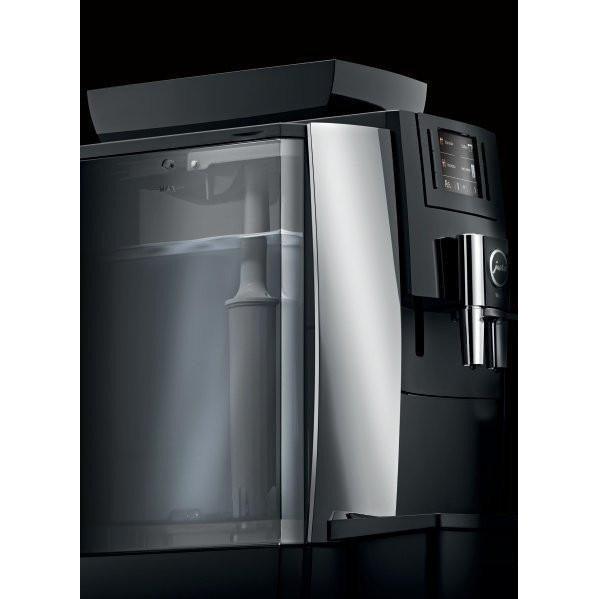 Jura WE8 Professional
In stock, ready to be shipped
Wherever customers, staff and visitors can enjoy superlative coffee, the atmosphere is relaxed, communicative and productive. Anyone who appreciates the finer things in life, a wide choice of specialty coffees and aesthetics will love the WE8. A water tank with a 3 l holding capacity, a bean container for 500 g of coffee beans and a coffee grounds container with a capacity of 25 portions make the elegant professional coffee machine the ideal solution for locations where around 30 specialty coffees are consumed per day. Innovative technologies revolutionize the enjoyment of coffee. The One-Touch function creates trend specialties like latte macchiato, flat white or cappuccino very simply at the touch of a button. Buttons on the front of the machine and a modern TFT display make operation incredibly simple even for inexperienced users.
State-of-the-art technologies for perfect enjoyment
 The WE8 offers 12 different specialties. JURA has perfected the complete brewing process for short specialty coffees, allowing the WE line to make them to professional barista standard every time. The six-level AromaG3 grinder ensures that the coffee is optimally ground. It always grinds the beans fresh, quickly yet gently to preserve the aroma. The Pulse Extraction Process (P.E.P.®) developed by JURA optimizes the extraction time. To make a ristretto or espresso, it forces the hot water through the ground coffee at short intervals. The One-Touch function on the WE8 allows you to make trend specialties finished with milk and milk foam at the touch of a button, without having to move the cup. 
TÜV-certified hygiene guarantee 
Cleanliness and hygiene are essential in the workplace, so integrated rinsing and cleaning programs combined with specially developed cleaning products for JURA coffee machines ensure perfect hygiene at the touch of a button. The milk system is also cleaned quickly and easily at the touch of a button. This complete hygiene system, which is certified by TÜV Rheinland, makes the WE line an excellent choice for premises which operate an HACCP* concept. 
As individual as your requirements 
Because requirements vary from one situation to another, the WE8 comes with many options for programming and customization. The amount of ground coffee and water can be adapted to suit personal preferences and the cups and glasses used. It is also possible to give preference to certain specialty coffees by disabling others. Various modes are available on request that only allow pre-settings and cup volumes to be changed after entering a certain key combination.
Benefits 
Pulse Extraction Process (P.E.P.®) optimizes extraction time to guarantee professional quality, barista-style coffee ƒ
The Intelligent Water System (I.W.S.®) automatically detects the filter while the CLARIS Smart and CLARIS Pro Smart ensure perfect water quality ƒ 
Buttons on the front of the machine and a modern TFT display make operation incredibly simple even for inexperienced users
Cappuccino spout, height adjustable on a continuous scale for cappuccino, latte macchiato and flat white topped with fine foam at the touch of a button
Height-adjustable coffee spout 2.5 – 4.4 In
Height-adjustable cappuccino spout 4.2 – 6 In
Height-adjustable hot water spout 4.2 – 6 In
Water tank capacity 101 oz
Coffee grounds container (servings) 25
Bean container with aroma preservation cover 17.6 oz (500 g)
Cable length approx. 43 In 
Voltage 120 V 
Current 10 A 
Power 1450 W 
Stand-by power 0 W
Weight 22 lb 
Dimensions (W × H × D) 11.6 × 16.5 × 17.5 In 
2 Year Warranty
An art that only a connoisseur could master ☕
A lot of hard work goes into producing good coffee. Each day, we are tasked with making our process better. Our commitment to quality and taste is what makes Gaia the best coffee in the world.#obsessed
Harvest
Our journey begins with a dedication to sourcing the highest quality coffee beans from diverse regions across the globe. By prioritizing sustainable and ethical practices, we not only deliver exceptional coffee but also support the livelihoods of the hardworking farmers who make it all possible.
Quality Control
After harvest, we meticulously inspect our beans. Only the beans that meet our high standards progress to the next step.
Production
Your beans are thoughtfully prepared for packaging. We are confident you will love our coffee as much as we do.
Our commitment to ethically sourcing coffee from around the globe is at the heart of our mission. We take great care to ensure that every bean we use is not only of exceptional quality but also sourced in a socially and environmentally responsible manner.
Direct Relationships: We establish direct relationships with coffee growers and cooperatives in coffee-producing regions worldwide. This direct connection allows us to collaborate closely with farmers, ensuring fair prices and transparency in the supply chain.
Fair Trade Practices: We prioritize Fair Trade principles, which guarantee fair compensation to coffee farmers. We believe that fair wages and decent working conditions are fundamental to sustaining coffee-producing communities.
Sustainability: We are committed to environmental sustainability. This includes supporting sustainable farming practices, such as shade-grown and organic coffee, which protect ecosystems and promote biodiversity.
Try our other delicious roasts