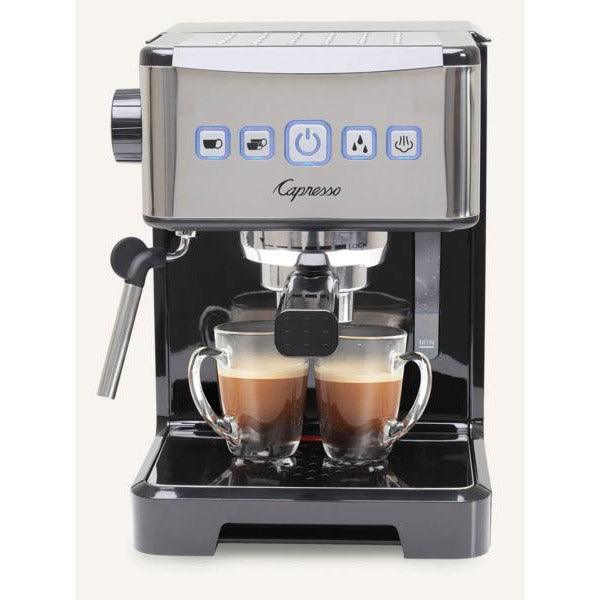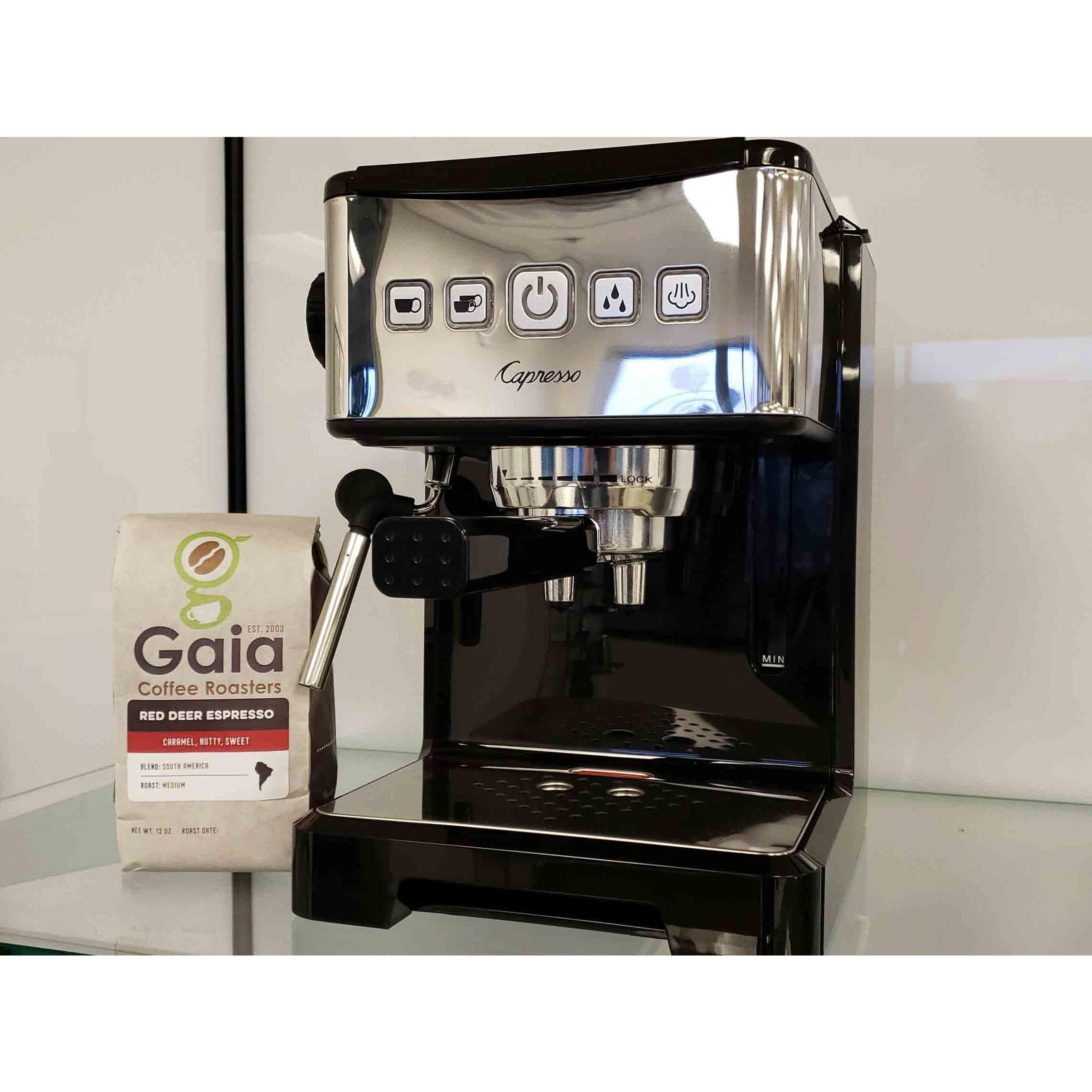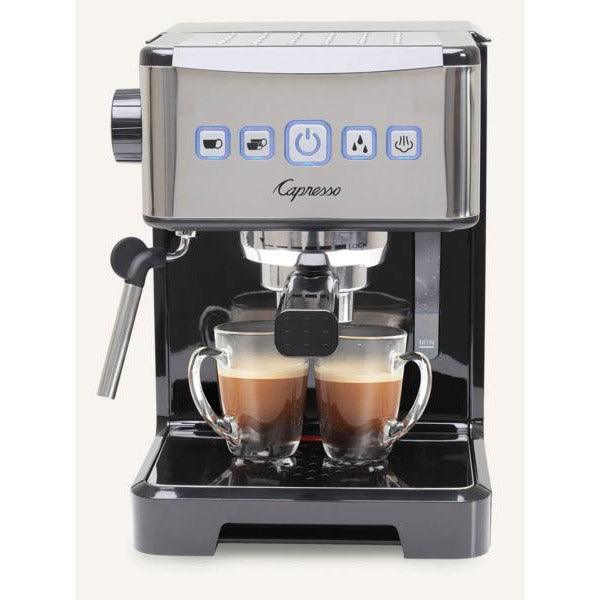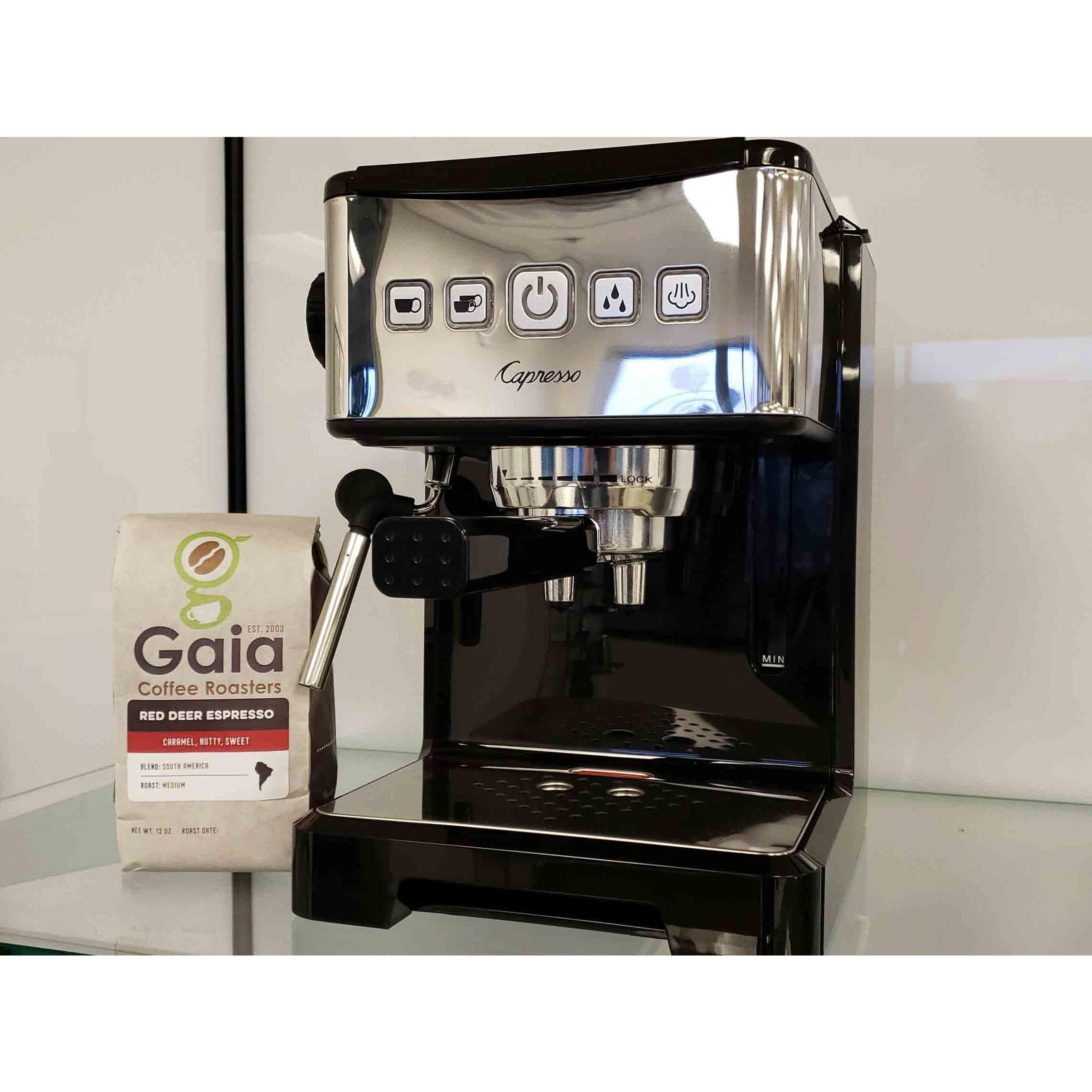 Capresso Ultima PRO - Free Coffee
A self-tamping portafilter and programmable cup buttons make it easier than ever to brew your favorite coffee specialties with the Capresso Ultima PRO Espresso & Cappuccino Machine.
Features and Benefits 
15 bar pump provides optimal pressure for rich crema, the thin layer of foam that is the mark of a perfectly brewed espresso
Programmable cup sizes for 1 or 2 espressosåÊ
Heavy-duty construction with polished stainless steel accentsåÊ
Illuminated icons for ease of use
Large, self-tamping portafilter with two included 58mm sieves for 1 or 2 cups
Illuminated buttons
Powerful frothing wand for latte and cappuccino
34-oz. removable water tank
Hot water function for Americanos or tea
Easy to clean removable drip tray with overflow indicator
Automatic shut-off after 30 minutes
Coffee scoop included
Integrated storage space for accessories
How Things Work
Featuring a self-tamping portafilter and programmable cup sizes, the Capresso Ultima PRO Programmable Espresso and Cappuccino Machine is the perfect choice for easily brewing delicious espresso and cappuccino at home. The Ultima PRO is equipped with a large self-tamping portafilter for incredible ease of use. The two independently programmable cup buttons can be set for up to 6 oz. of espresso. Simply push and hold either of the buttons and watch as the liquid is dispensed into your cup.Once you have achieved the desired volume, push and release the button again, to lock in the setting. A powerful milk frother creates steam for thick, rich cappuccinos, while the hot water setting can be used for aromatic Americanos.

Polished stainless steel accents and heavy-duty construction make the Capresso Ultima PRO the centerpiece of any kitchen counter top. A large warming platform keeps cups at the perfect temperature while integrated storage keeps your extra accessories neatly stowed atop the machine.The handy water-level window gauge makes it easy to know when it‰۪s time to refill the removable tank, and the drip tray overflow indicator tells you when to empty any waste water without a mess. With all these features and more, the Capresso Ultima PRO is without a doubt the most convenient pump espresso machine available on the open market!
Includes:
Self-tamping portafilter
1-cup & 2-cup sieve
Measuring scoop
Watts/Volts/Hertz:
1450W/120V/60Hz
Color:
Black / polished stainless steel
Safety Approval:
UL Listed
Machine Weight:
12 lbs.
Dimensions:
H- 11_" x W-8" x L-10"
Warranty:
1 Year Limited Warranty for Household Use
Country of Origin:
Made in China
An art that only a connoisseur could master ☕
A lot of hard work goes into producing good coffee. Each day, we are tasked with making our process better. Our commitment to quality and taste is what makes Gaia the best coffee in the world.#obsessed
Harvest
Our journey begins with a dedication to sourcing the highest quality coffee beans from diverse regions across the globe. By prioritizing sustainable and ethical practices, we not only deliver exceptional coffee but also support the livelihoods of the hardworking farmers who make it all possible.
Quality Control
After harvest, we meticulously inspect our beans. Only the beans that meet our high standards progress to the next step.
Production
Your beans are thoughtfully prepared for packaging. We are confident you will love our coffee as much as we do.
Our commitment to ethically sourcing coffee from around the globe is at the heart of our mission. We take great care to ensure that every bean we use is not only of exceptional quality but also sourced in a socially and environmentally responsible manner.
Direct Relationships: We establish direct relationships with coffee growers and cooperatives in coffee-producing regions worldwide. This direct connection allows us to collaborate closely with farmers, ensuring fair prices and transparency in the supply chain.
Fair Trade Practices: We prioritize Fair Trade principles, which guarantee fair compensation to coffee farmers. We believe that fair wages and decent working conditions are fundamental to sustaining coffee-producing communities.
Sustainability: We are committed to environmental sustainability. This includes supporting sustainable farming practices, such as shade-grown and organic coffee, which protect ecosystems and promote biodiversity.
Try our other delicious roasts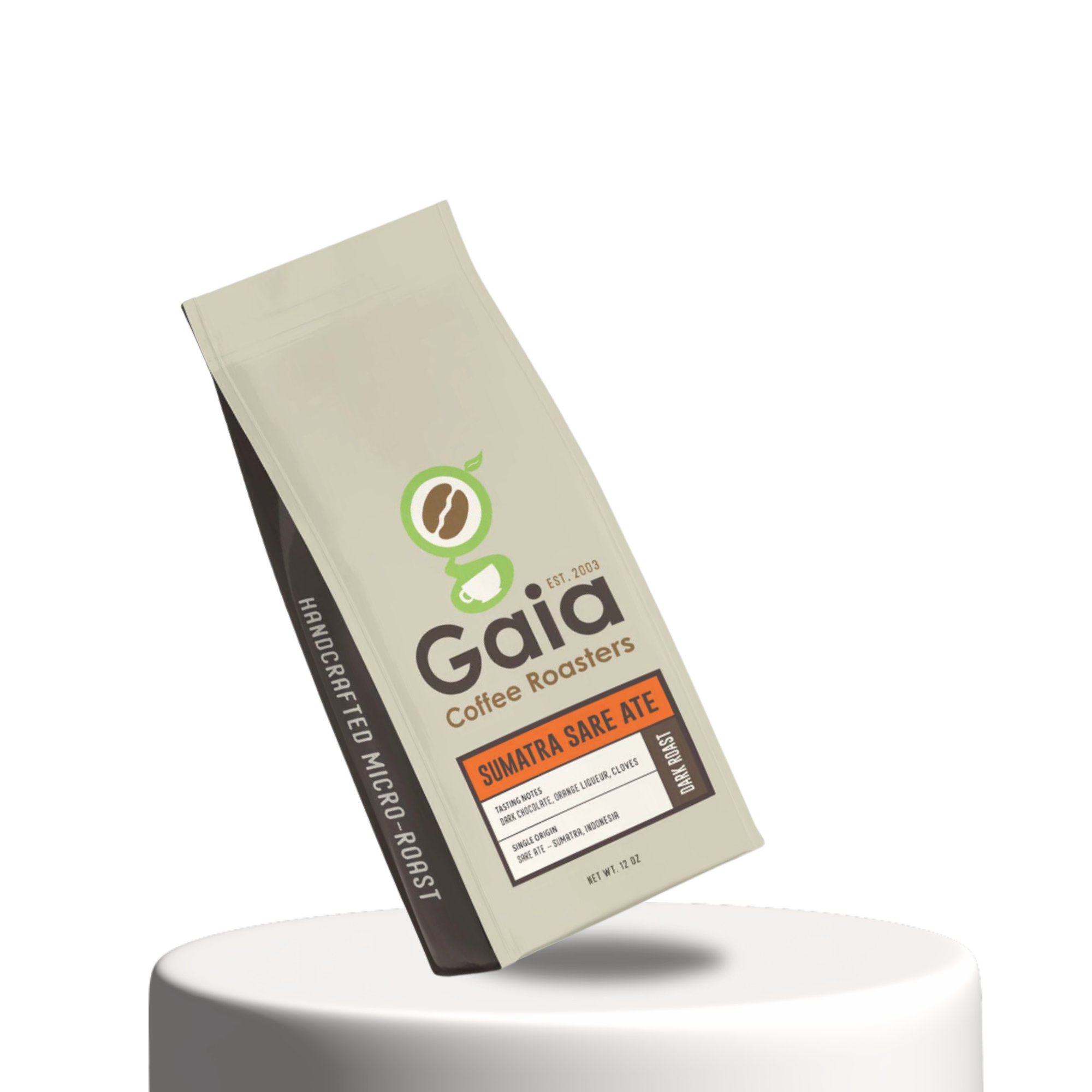 Exelllen
Very good machine.. a lot of pressure.. faster.. easy to setup .. versatile.. all my friends. Sed congratulations you Café is exelente !!!