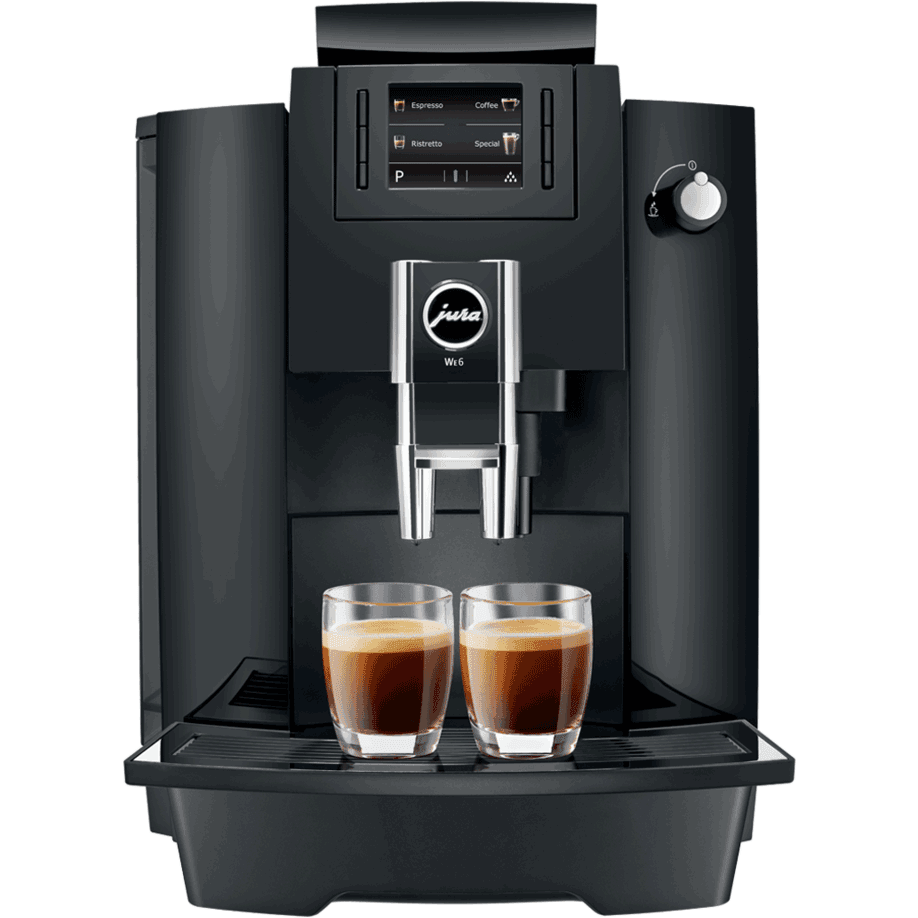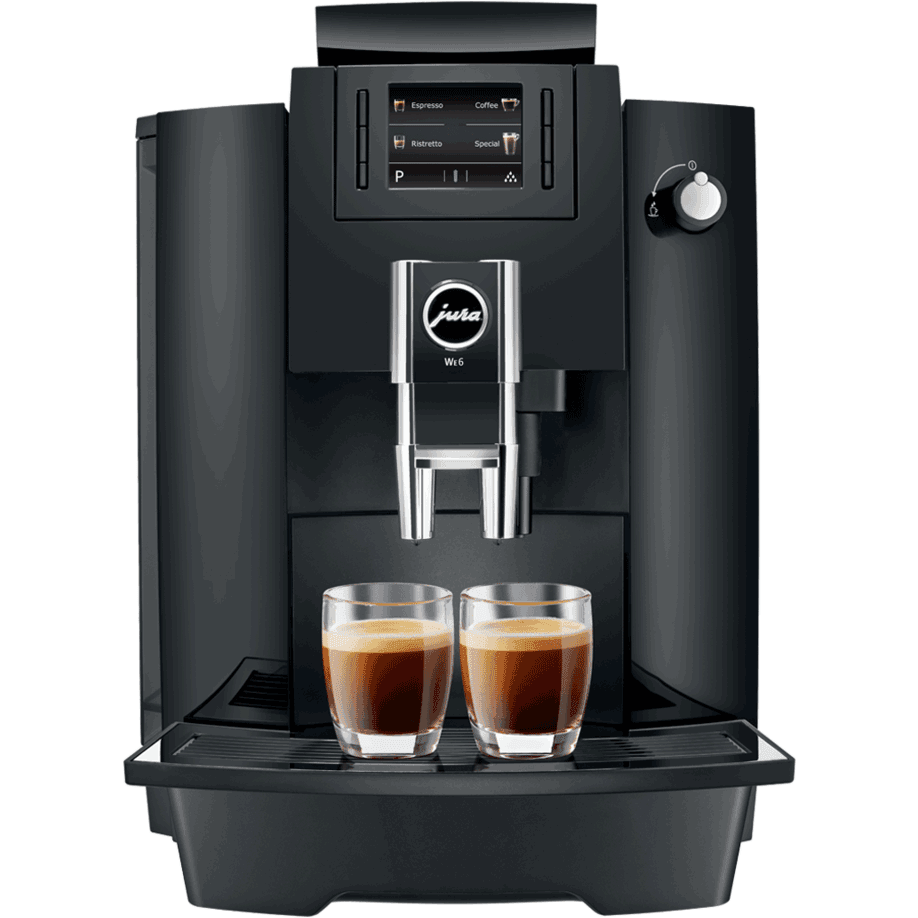 Jura WE6

For the coffee purist: Just Espresso & Coffee
(And hot water too!)
TFT color display for intuitive operation
Disable function for products and programming, perfect for office settings
Twice as fast Aroma G3 grinder
Ultimate coffee quality thanks to Pulse Extraction Process (P.E.P.®)
Intelligent Water System (I.W.S.®) with RFID technology automatically detects the CLEARYL Smart water filter
Removable hot water spout
Compatible with Smart Connect for use with J.O.E.® (JURA Operating Experience) app
Recommended maximum daily output up to 30 cups
Smart Connect is NOT included with the purchase of WE6
Model #
15343
Color
Piano Black
Grinders
1
Individually Programmed Specialties
8
Coffee Strength Levels
8
Brewing Chamber Capacity (g)
5-16
Powder Chute for Ground Coffee
Yes
Milk Frothing System
Coffee only
Smart Connect
Compatible
Wattage
1450
DIMENSIONS  
 Height (in)
 16.5
 Width (in)
 11.6
 Depth (in)
 17.5
 Weight (lbs)
 22.1
 
 
WARRANTY
1 Year Limited
 
An art that only a connoisseur could master ☕
A lot of hard work goes into producing good coffee. Each day, we are tasked with making our process better. Our commitment to quality and taste is what makes Gaia the best coffee in the world.#obsessed
Harvest
Our journey begins with a dedication to sourcing the highest quality coffee beans from diverse regions across the globe. By prioritizing sustainable and ethical practices, we not only deliver exceptional coffee but also support the livelihoods of the hardworking farmers who make it all possible.
Quality Control
After harvest, we meticulously inspect our beans. Only the beans that meet our high standards progress to the next step.
Production
Your beans are thoughtfully prepared for packaging. We are confident you will love our coffee as much as we do.
Our commitment to ethically sourcing coffee from around the globe is at the heart of our mission. We take great care to ensure that every bean we use is not only of exceptional quality but also sourced in a socially and environmentally responsible manner.
Direct Relationships: We establish direct relationships with coffee growers and cooperatives in coffee-producing regions worldwide. This direct connection allows us to collaborate closely with farmers, ensuring fair prices and transparency in the supply chain.
Fair Trade Practices: We prioritize Fair Trade principles, which guarantee fair compensation to coffee farmers. We believe that fair wages and decent working conditions are fundamental to sustaining coffee-producing communities.
Sustainability: We are committed to environmental sustainability. This includes supporting sustainable farming practices, such as shade-grown and organic coffee, which protect ecosystems and promote biodiversity.
Try our other delicious roasts